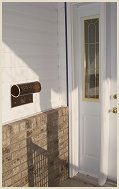 Testimonial:
Thank you for such prompt service with delivery of the Newspaper Holder we ordered from you. We are delighted with the construction and appearance of it.
from Victoria, BC

For those who live in
an apartment or are serviced by communal residential mailboxes this is a great solution. Our decorative
mailboxes - newspaper holders will keep your paper dry and in readable condition

Snow - Wind - Rain

Our Newspaper holders are a convenient, durable and weatherproof place for your
daily newspaper delivery.

Ideal for homes, subdivisions
and apartments serviced by
residential "super mailboxes"

Hand molded from window grade high quality bronze tinted acrylic

A Great Gift Idea!


Our patented newspaper holder design will add a nice touch of class to any home. Constructed of tough, durable acrylic it will stand up to wind and weather for many years.

More attractive than metal newspaper boxes and easy to install our newspaper holders are a great gift for the new home owner and can be used as a promotional tool by home building and construction contractors and realtors.



Only $49.95 CAD! (includes shipping to Canada & USA) - Order Today